Infrared SOLAS Animal I D Tags
for use with infrared camera
Infrared SOLAS Animal ID tags from Anytime Sign are completely water proof and are designed to mark an animal for night time identification. Complete information is at http://www.anytimesign.com/infrared_animal_id_tagging_system. Once you have captured the animal you wish to tag, squirt a small amount of Animal ID Tag Cement onto the Infrared SOLAS tag and place on the upper shoulder(s) of the animal. The placement should be out of the animals biting range to prevent them from chewing off the tag. For best results use a tag on both sides so you can see a IR tag regardless of which way the animal is facing. Tags come in 1 3/4" AND 1 1/8" diameter and apply to animal with Ruscoe Tag Cement. Glue meets all government specifications. Numbered sets and custom printed information on tags is available.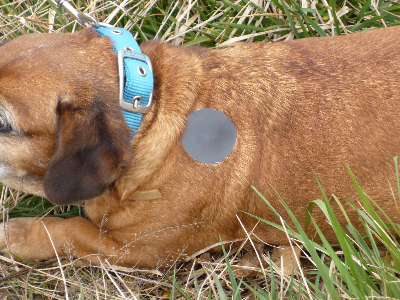 Puppy Girl does not feel the two discs
800-598-0584 Fax 870-895-3229 EMAIL
Infrared Coatings, 9967 Hwy 9, Mammoth Spring, AR 72554
Infrared Coatings is a subsidiaty of Anytime Sign, Inc.