DIGITAL PRINT GALLERY
�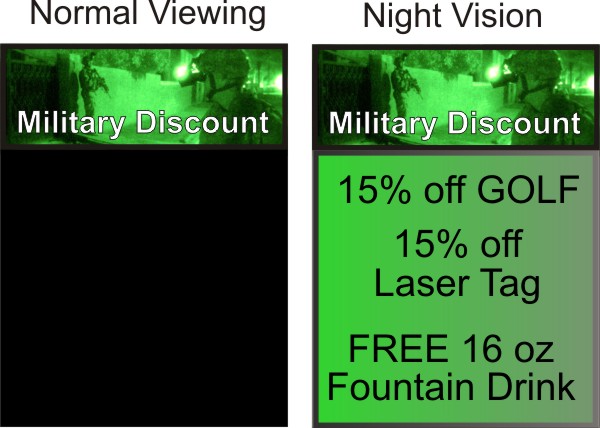 This is a typical Military Discount 18" x 24" Menu
with 3M 3200 Engineer Grade Scotchlite as the printing surface made by our sister company
http://www.anytimesign.com/military_discount_menu
(800-582-1554). The customer can apply this decal to any smooth surface including glass, masonite, Formica, etc.
The first pass through the Roland Digital Printer prints a full color header, a covert carbon black message and a Magic Black field around the message. The second pass through the Roland Digital Printer prints a second coat of Magic Black over the entire black surface. Infrared Coatings Company has outfitted a typical Roland Solvent Digital Printer with a Magic Black Head and Magic Black Ink. An off-the-shelf software from Wasatch is used to isolate and drive the printing heads with Magic Black, carbon black and four color process all in one pass.
---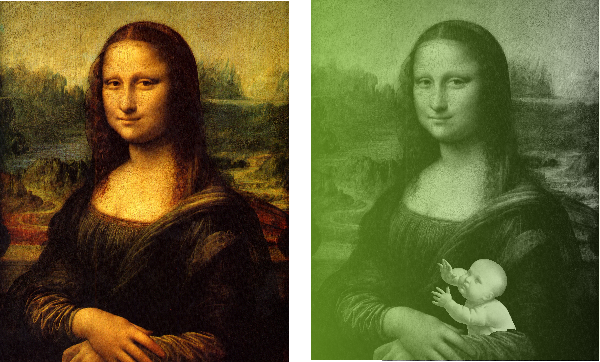 Why is Mona Lisa smiling? Fauxpix, a sister company, used infrared night vision equipment to look beneath Mona Lisa's dress and finds a cute little baby in her arms. After the startling revelation, the Fauxpix video shows how the print was made with Magic Black Digital Ink and a specially converted Roland 6 head digital printer.
http://www.fauxpix.com
used the technology created by Infrared Coatings
---
To place an order, please call 800-582-1554 or print order form
800-598-0584 Fax 870-895-3229 EMAIL
Infrared Coatings, 9967 Hwy 9, Mammoth Spring, AR 72554
Infrared Coatings is a subsidiaty of Anytime Sign, Inc.